Asia's chess factory: Vietnam trains its youngest to be world-class players
Vietnam adopted the old Soviet model and offers a monthly salary to children as young as 4 who excel in tournaments.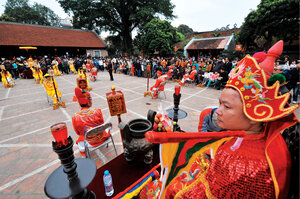 Newscom
Ho Chi Minh City, Vietnam
Le Quang Liem cannot remember all the countries he's been to, but he can play chess with his eyes closed. For this, he says, you need to have an excellent memory – an ability to keep the position of all the pieces in your head.
This year the 19-year-old resident of Ho Chi Minh City – with a shy voice and big glasses – became the first person from Southeast Asia to win the Aeroflot Open in Moscow, widely regarded as the world's most difficult open chess competition.
Mr. Liem left Moscow with a $28,280 prize and a ticket to compete in an elite, invitation-only tournament in Dortmund, Germany, later this month, where he will play against a former world chess champion, among others. Another player from Vietnam tied for third place in the tournament, while the best American player landed in 20th place.
"What a shock to Russian chess fans to see dozens of their heroes surpassed by two Vietnamese teenagers!" exclaimed a Los Angeles Times writer in a story titled "Vietnamese Surprise in Moscow," while The New York Times named its article about the chess tournament, "Big Surprises in Europe."
---