Top Picks: 'Through a Dog's Eyes,' 'Climate Refugees,' small donations, and more recommendations
PBS documentary about service dogs on DVD, book about climate displacement, a donation that changes the world, and more top picks.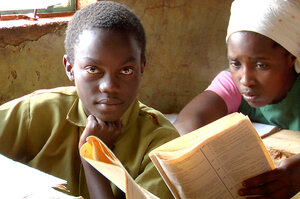 HBO
A dog's perspective
People think they pick the dog, when the dog clearly picks them. That's Jennifer Arnold's assessment of the bonding process that goes on at her Canine Assistants organization in Atlanta, the focus of a new PBS documentary "Through a Dog's Eyes" (on DVD, $24.99). What follows is a tender look at how these dogs are trained to assist people with special needs. It's not so much the practical help but the dogs' extraordinary perceptiveness that transforms people's lives.
Cold-war stories
A new, three-part PBS documentary, "Turmoil and Triumph: The George Shultz Years," takes us behind the scenes of the Reagan White House during the tumultuous cold-war years. The three hours feature interviews with the former secretary of State himself, as well as with former secretaries Colin Powell, Condoleezza Rice, and Henry Kissinger, not to mention the prime mover behind perestroika, Mikhail Gorbachev. Airs July 12, 19, and 26, at 10 p.m.
That sinking feeling
---