Top picks: Guitar festival redux, 'A Town Called Panic,' 'Rubicon,' and more recommendations
Highlights of Crossroads Guitar Festival in local movie theaters, a marvelously inventive Belgian animated film on DVD, AMC's new espionage series, and more top picks.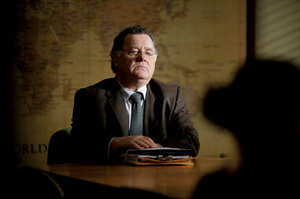 AMC TV
Guitar festival redux
Guitar fans who couldn't make it to Chicago in June, can now experience Eric Clapton's day-long Crossroads Guitar Festival 2010 at a local movie house on July 27. The special two-hour event will be shown in HD beginning at 7:30 p.m. local time across all time zones and will feature performances from the festival. Highlights include Clapton, ZZ Top, Steve Winwood, B.B. King, Vince Gill, Sheryl Crow, Buddy Guy, John Mayer (right), and Bill Murray, as well as backstage access to footage and interviews with the performers. For tickets go to fathomevents.com.
For the love of nature
The quiet biologist whose book, "Silent Spring," alerted the public to the profligate use of pesticides in the years following World War II, is the subject of "A Sense of Wonder," a new DVD from PBS. Kaiulani Lee, who wrote the play by the same name, portrays Rachel Carson in this hour-long intimate portrait, based on two interviews Carson gave in 1963 as she fought the chemical industry and faced illness. What comes across is Carson's deep love of nature and her courage to defend it. She recognized the interconnectedness of life when that idea was considered wildly eccentric, and our modern environmental movement has her to thank.
---