A startup indie radio station gains a toehold in an unfriendly universe
Storefront booths, such as East Village Radio in New York, reach millions online – if they can cut legal static.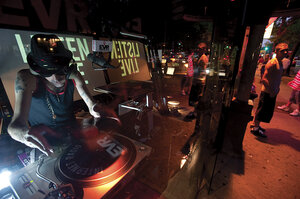 Ann Hermes/Staff
If you were walking in New York's East Village this past August, you might have passed by indie-rock legend Dean Wareham – the mastermind behind the seminal 1990s dream-pop bands Galaxie 500 and Luna – giving an in-studio performance at East Village Radio (EVR).
For fans who were looking for a glimpse, radio show host Delphine Blue entreated: "We're in a storefront on First Avenue, so if you're walking by, you can stick your face up to the window."
"It's fun, isn't it?" chirped Ware­ham, who after more than 20 years in the music business seemed bemused by the throwback nature of the street-level radio booth.
It conjures up images of Wolfman Jack in "American Graffiti," or Samuel L. Jackson as the storefront DJ Love Daddy in Spike Lee's "Do the Right Thing," where Jackson's character comments on the weather and the passersby, and, in a sense, is also a player in the theater of the street.
For EVR, that "fourth wall" is often further blurred, as friends, neighbors, and even strangers regularly pop in to say hello, and will likely find their way onto the air.
On a recent Thursday afternoon during "Pizza Party" (an EVR show that plays jangly pop and alt-rock obscurities), the electro art-punk duo A.R.E. Weapons came by to drop off a record to a friend hanging out in the booth. Impromptu, show hosts Kevin Pedersen and Max Wowch slapped the record onto the turntable, cued it up, and had the duo introduce their own song.
---