Top picks: 'Casino Jack,' Martha Stewart, Museum Day, and more
'Casino Jack' documentary about Jack Abramoff out on DVD, Martha Stewart now on Hallmark Channel, free pass to museums on Museum Day Sept. 25, and more recommendations.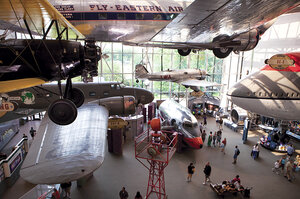 Melanie Stetson Freeman/Staff /File
A story of corruption
The title of Alex Gibney's newest documentary, "Casino Jack and the United States of Money," says it all. Superlobbyist, Republican wheeler-dealer, and convicted felon Jack Abramoff may seem like old news right now, but what he represents is all too evergreen. Gibney, best known for "Taxi to the Dark Side" and "Enron: The Smartest Guys in the Room," is very good at chronicling corruption. Abramoff's machinations pulled in everybody and everything from Tom DeLay to Patrick Kennedy to native American tribes to the sweatshops of the Marianas Islands. He was an equal-opportunity blight. Out on DVD Sept. 7. (Rated R.)
Bouncy blues
Eden Brent's new CD, "Ain't Got No Troubles" (Yellow Dog Records), holds a dozen songs that will have you smiling if not singing and jumping to your feet in a spontaneous boogie-woogie. A classically trained musician who apprenticed for 16 years with blues pioneer Abie "Boogaloo" Ames, Brent plays and sings as if she never left a 1920s juke joint, but laces the music with a modern joy, flair, and wordsmithing savvy. Songs include: "In Love With Your Wallet," "My Man," "If I Can't," and the title track.
---