Top picks: Robert Plant, Cuba's unique flora and fauna, Patrick Dougherty's sculptures, and more
Robert Plant's new album 'Band of Joy,' PBS documentary on 'Cuba: an Accidental Eden,' sculptor Patrick Dougherty's new book 'Stickwork,' and more recommendations.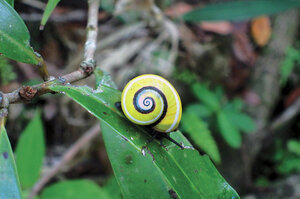 PBS
Robert Plant's 'Joy'
At first blush, Robert Plant's new album "Band of Joy" (Rounder Records) is a de facto sequel to "Raising Sand," his Grammy-winning collaboration with Alison Krauss. Once again he wraps in blues, folk, and country-and-western, while Patty Griffin steps in for Krauss as the angelic voice of harmony. But "Band of Joy" is anything but formulaic and lives up to its title, though the joy is tempered by the brooding nature of many of the songs. Most appealing: a slow-building church stomp ("Satan, Your Kingdom Must Come Down"), a dash of Middle Eastern-accented Los Lobos ("Angel Dance"), and the delirious duet with Griffin on "House of Cards."
Tommy James's wild ride
As the originator of "bubble gum" music (with No. 1 hits like "Hanky Panky" and "Crimson and Clover"), Tommy James seemed the very image of a pop star safe enough for your daughter to date. Or... not, definitely not. In this salty and entertaining autobiography, "Me, the Mob, and the Music" (Scribner), James spins the jaw-dropping story of his overnight transformation from wide-eyed Midwestern teen to captive cash cow of the New York Cosa Nostra. It's a fascinating glimpse of the dark side of the gold record.
Cuba untouched
---