Top Picks: Patrick Stewart, Nat Geo 'Making History,' Rahim AlHaj, and more
Patrick Stewart in new 'MacBeth' film, National Geographic's 'Making History,' Iraqi musician Rahim AlHaj's new CD 'Little Earth,' and more recommendations.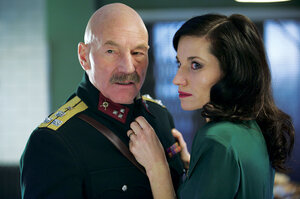 WNET
Stewart's 'MacBeth'
British actor Sir Patrick Stewart, of "Star Trek" fame, created a sensation with his performances of "MacBeth" on both the London and New York stages. Now this film, airing on PBS Oct. 6 as part of its "Great Performances" series, captures the tortured king and his court in a movie.
Extraordinary oud
Rahim AlHaj's "Little Earth" (UR Music) would be a fascinating record based on the artist's story alone: an Iraqi oud player and composer who escaped in 1991 after being imprisoned and tortured for his musical opposition to Saddam Hussein's regime. Each composition on this CD features AlHaj's masterly oud playing, accompanied by guest artists on native American and Iranian flutes, Australian didgeridoo, accordion, sitar, African kora harp, jazz guitar, and more. Powerfully beautiful.
Moral courage in a time of war
Before WikiLeaks, before the Internet, a defense analyst named Daniel Ellsberg rocked the American public in 1971 when he leaked a top-secret study of US decisionmaking in Vietnam. This came to be known as the "Pentagon Papers." To many, Ellsberg was "the most dangerous man in America," now the title of a documentary that airs on PBS Oct. 5.
---