Social gaming: The parlor-game crowd logs on
No geek credentials required for the low-tech, community-oriented games that draw Facebook fans.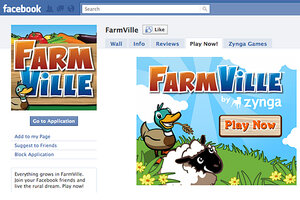 facebook.com screengrab
A couple of years ago, Angela Morales received a Facebook invitation from her mother, begging her to sign up for a newish game called FarmVille. Unlike traditional console titles, FarmVille takes place entirely online – the industry term d'art is "social gaming" – and allows collaboration among millions of users around the globe.
In the case of FarmVille, which is produced by San Francisco-based Zynga, the purpose of the game is to handle the day-to-day operations of a virtual farm. Players feed the pigs, monitor the crops, and work to expand their pixilated holdings; meanwhile, other users can patronize the farm, or simply drop in to lend advice.
Ms. Morales was skeptical. She had recently started a photography company in Houston, where she lives with her husband, and free time was hard to find. Moreover, she had never really considered herself much of a hard-core gamer. But the invitations kept coming, and eventually, her defenses worn down, she decided to accept.
The decision changed Morales's life. Within a few months, she was deeply immersed in the world of FarmVille, spending hours a day tilling virtual fields, and breeding virtual animals. In September 2009, she founded the blog FarmVilleFreak.com, a fan page dedicated to all things FarmVille; it has since become the most popular unofficial FarmVille fan site in the world (and yes, FarmVille fan sites are legion).
Although she and her husband recently had their first child, Morales estimates that she still signs on to FarmVille at least three times a day. "I can say that I'm thankful FarmVille didn't exist while I was still in college," Morales joked recently.
---