New Americas wing opens at Boston's MFA
MFA's new Art of the Americas wing boosts the field of American art, which has often been seen as a poor cousin to Europe.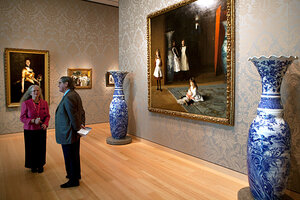 Melanie Stetson Freeman/Staff
Is it the last of an art museum building boom that began in the affluent 1990s? Or is it state of the art for a 21st-century facility?
The new $504 million Art of the Americas wing of Boston's Museum of Fine Arts (MFA) is likely both. And a boon to the study of the art and culture created in the "New World," from the Arctic to Tierra del Fuego, as well.
"This is the biggest project in American art and culture being undertaken by any major American institution at the moment," says Malcolm Rogers, the MFA's director.
The new wing, which aims to tell the story of the arts of the entire Americas, not just the United States, features 53 galleries, including nine period rooms, which combine furniture, silver, textiles, ceramics, paintings, and other objects in a single room.
The building, designed by Pritzker Architecture Prize winner Norman Foster, is a modest four-story rectangle that aims to make the treasures within the stars of the show.
The wing, which opens to the public Nov. 20, adds 121,307 square feet to the museum, bumping up its size from 483,447 square feet to 616,937. More than 5,000 works will be on display, more than double the number of pieces from the Americas previously on display.
The fund raising, largely gathered from wealthy patrons before the stock market swoon of 2008, was itself an impressive feat.
---