The women of pop art
Long sidelined, women artists slowly win recognition – and museum space.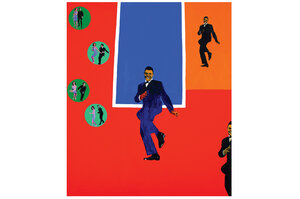 Courtesy of The Brooklyn Museum
Notice a tint of gender bias in terms like "masterpiece" and "old master"? Now a picture is emerging of not just historical, but persistent discrimination against women in the art world. A slew of recent museum exhibitions aims to fill in the blanks. The latest, "Seductive Subversion: Women Pop Artists, 1958-1968" (at the Brooklyn Museum through Jan. 9), brings a feminine presence to the masculine-sounding term "pop art."
The show features works by 25 women who helped develop pop art but who (except for the sculptor Marisol) disappeared from art history books. "These artists were all visible once," says Sid Sachs, director of exhibitions at Philadelphia's University of the Arts, who conceived the show. Yet when the first art histories and surveys of the movement appeared, he adds, "There was a real critical culling." Mr. Sachs made it his mission to "cherchez la femme" and says, that through exhaustive research, "I found the women!"
It's not news that art by women has been under-recognized. H.W. Janson's classic text "History of Art," used in countless Art 101 courses, didn't contain work by a single female artist until the 1986 edition, after the author was deceased. (That edition included 19 female artists out of 2,300 illustrations.) As late as 1979 Janson said, "I have not been able to find a woman artist who clearly belongs in a one-volume history of art."
---
Follow Stories Like This
Get the Monitor stories you care about delivered to your inbox.