Top picks: 'Edible Stories,' 'Mood Music for Time Travellers,' Fran Lebowitz focused documentary 'Public Speaking,' and more
Author Mark Kurlansky's 'Edible Stories,' Either Orchestra CD 'Mood Music for Time Travellers,' Martin Scorsese documentary 'Public Speaking' on Fran Lebowitz, and more recommendations.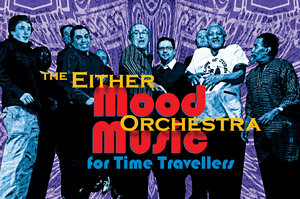 Accurate Records
Foodie fables
Mark Kurlansky, award-winning author of "Cod" and "Salt," now serves up "Edible Stories," in bizarre, tantalizing morsels. Kurlansky's novel parodies the ties created by food with stories that reveal how it can also divide, threaten, and repulse. Leading the way is Robert Eggle, a famous food critic who has lost his memory and sense of taste, but no one is the wiser. A small packet of red Hawaiian sea salt links a quirky and captivating cast of characters.
Celebrating Sondheim
From "Follies" to "Sweeney Todd" to "Sunday in the Park with George," composer and lyricist Stephen Sondheim embodies the modern Broadway musical. Enjoy highlights from this amazing career in the PBS special "Sondheim! The Birthday Concert" on the "Great Performances" series Nov. 24 at 9 p.m. This 80th birthday party in New York's Lincoln Center features some of Broadway's biggest names – Mandy Patinkin, Patti LuPone, Bernadette Peters, Elaine Stritch – singing some of the Great White Way's most memorable songs.
---