Top Picks: American Idol returns, 'The Social Network' on DVD, French film online, and more
A new season of Idol (minus Cowell,) 'The Social Network' released on DVD, the first French online film festival, and more recommendations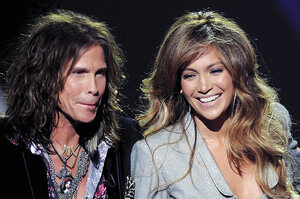 Newscom/File
Short stories of the obsessive kind
In "The Devil & Sherlock Holmes," author David Grann dives into 12 true tales of curious crimes and quixotic quests. Through extensive reporting, he dredges up brilliant portraits of the madness that drives people to great and sometimes terrible things. The stories in the book, in paperback Jan. 11, range from the 81-year-old criminal hoping for a 19th successful prison break to New York City's deadly underground drilling expeditions.
Just the ticket
Autopark, an iPhone app that tells you when your meter will expire and helps locate your car, may be pricey at $5, but could save you a bundle on parking tickets. Available on iTunes.
You judge
"American Idol," the Fox network juggernaut, returns for its 10th season. A few changes spice up this now-familiar sing-off: The acerbic Simon Cowell has been replaced by two industry pros, Steven Tyler and Jennifer Lopez (pictured), and the minimum age requirement has been lowered to 15. The season kicks off Jan. 19 with a two-hour episode at 8 p.m. and returns Jan. 20 for a single hour.
The face behind Facebook
---