Crowdsourcing: The art of a crowd
Crowdsourced art, also known as wiki-art, erases the line between artist and audience.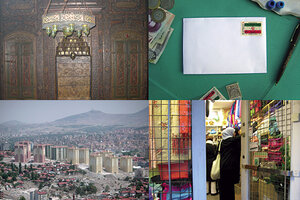 Courtesy of Andrea Grover
It used to be that artists painted, sculpted, or collaged images drawn from the world or their imaginations into original compositions. Now artists make collages from other people's voices, dreams, and actions. Called "social practice" or "crowdsourced" art, the new format requires contributions from strangers. "We're look­ing at people's behavior, ideas, and interactions as material for the artwork," says Jon Rubin, associate professor of art at Carnegie-Mellon University in Pittsburgh.
Jeff Howe first defined "crowd­sourcing" in a 2006 article in Wired magazine, referring to content, solutions, and suggestions solicited from amateurs via the Internet. Beginning around 2002, artists began experimenting with how Web 2.0 culture (browsing, sharing, producing, and aggregating data) could merge with art.
Now the last bastion of individuality – the notion of art as an expression of one person's vision – is crumbling, invaded by art as a group activity. "There's definitely a groundswell for this type of work," says Randall Szott, coeditor of a journal of social practice called "127 Prince."
Sharon Butler, professor of art at Eastern Connecticut State University in Willimantic, notes, "The old paradigm is of artists isolated in a studio for 10 to 12 hours a day, focused exclusively on their own projects. People are increasingly turning their focus outward." Rudolf Frieling, curator of media arts at the San Francisco Museum of Modern Art, agrees: "It's here to stay. It's not going to go away."
---