Riding the subway with the 'book spy'
Anonymous but never shy, she spies on New Yorkers in the subway and records their reading habits.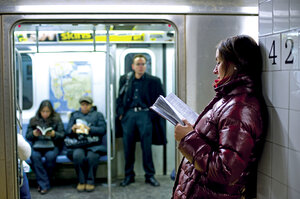 photo Illustration by Ann Hermes/Staff
Chapter 1.
From the Park Slope neighborhood of Brooklyn, the N subway line turns north in the direction of Queens, bends west over the East River, and winds straight up through the center of Manhattan. As subway lines go, the N is a good one – it is relatively uncrowded on weekdays, even during the hectic early-morning and late-afternoon hours, and the Straphangers Campaign recently reported that the N was cleaner than average and extremely unlikely to break down.
On an unseasonably warm Saturday in January, I rode the N line with a woman I'll call Parker Twain. Ms. Twain is 24. She has bright, restless eyes and brown hair, which she wears cut straight across her forehead. Twain lives in Brooklyn and works in the offices of a major publishing house in Manhattan. In her spare time, she is a spy. More specifically, she is the Book Spy, an anonymous blogger who spends between 12 and 14 hours on the subway every week, chronicling the reading habits – and sartorial predilections – of her fellow New York commuters.
---