Top Picks: A tribute to Bob Marley, a Tchaikovsky concert, Aaron Neville's new album, and more
A 'Playing for Change' mashup of Bob Marley's 'Redemption Song,' a live broadcast of the Los Angeles Philharmonic's Tchaikovsky concert, Aaron Neville's latest gospel album, and more recommendations.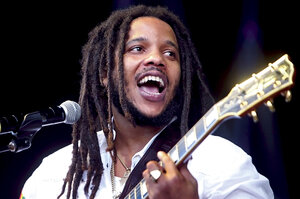 Newscom
After Josephine
Most people know that Napoleon and Josephine were an item, historically speaking. But what about Napoleon and Desirée, Pauline, and Georgina. "Napoleon & Love" (Acorn Media), a British costume drama, skips the French conqueror's early life and later military campaigns and concentrates on the stylish ballrooms and bedrooms where the divorced Napoleon woos and sometimes weds the women in his life. Starring Ian Holm, this lavish film arrives on DVD March 1.
Gospel gem
Aaron Neville, the "Tell It Like It is" singer from oldies radio and member of New Orleans' Neville Brothers band, celebrates his sixth decade with a real gem. "I Know I've Been Changed" is a gospel album with a hushed and intimate feel, Neville's quavering tenor testifying with quiet fervor. Fellow Big Easy legend Allen Toussaint mans the keyboards.
Marley lives on
Thirty years after his passing, Bob Marley lives on in a new viral video of his "Redemption Song," played by musicians around the world (including son Stephen, left). Put out by Playing for Change, the mashup at http://mashable.com/2011/02/08/bob-marley-viral-video/ is "another song of freedom."
comedic complications
---