Top Picks: '127 Hours,' Amos Lee's latest album, 'The Complaints,' and more
Danny Boyle's cinematic survival tale '127 Hours,' Amos Lee's soulful album 'Mission Bell,' Ian Rankin's intriguing detective story 'The Complaints,' and more recommendations.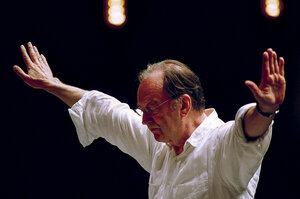 Newscom
Blue-eyed soul
Philly singer/songwriter Amos Lee has always seemed to be hovering in the background. Now he's ready for his close-up. His stirring and seriously soulful new album, "Mission Bell," just debuted at No. 1 on the Billboard charts, and Lee has finally stepped into the spotlight. Blue-eyed soul hasn't sounded this good since Ray LaMontagne emerged from the Maine woods.
Painful and powerful
"127 Hours" is a deceptively simple film on the surface – an account of 27-year-old mountaineer Aron Ralston's astonishing survival after his forearm was pinned beneath a boulder at the bottom of a remote Utah crevice. While his now well-known decision to free himself by severing his arm may seem an unlikely source of inspiration, the film, by Danny Boyle ("Slumdog Millionaire"), is a moving account of what one man must leave behind – emotionally as well as physically – in order to go forward in his life. Out on DVD in early March.
A masterpiece reimagined
Nikolaus Harnoncourt is an Austrian conductor known for historically informed performances of the classical era. Johannes Brahms's German Requiem, composed between 1865 and 1868 and originally conceived for smaller groups, is sacred but nonliturgical. Brahms's longest composition, the work gained enough popularity to be performed by large choirs and orchestras. "Ein Deutsches Requiem," a Sony Classical release features the Vienna Philharmonic, Arnold Schoenberg Choir, baritone Thomas Hampson, and soprano Genia Kuhmeier.
---