Top 6 Picks: Etta James CD, Harry Potter DVD, King James Bible documentary, and more
An anthology of Etta James' earliest recordings, a newly released DVD of 'Harry Potter and the Deathly Hallows: Part 1,' the movie 'The Book That Changed the World: The Amazing Tale of the King James Bible,' and more recommendations.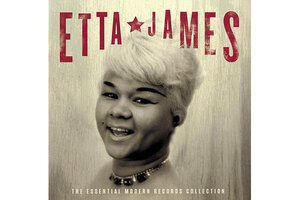 Balloon doodles
Doodlersanonymous.com recently ran a competition for drawing doodles on balloons. The winning entries are a creative tour de force of what can become of a lowly balloon. Click on "showcase" and scroll through deer, tigers, dogs, and a masterly family portrait.
Behind the comedy
HBO's intriguing hour of comedy shoptalk, Talking Funny, is occasionally R-rated for four-letter words, but mostly it's an engrossing look inside the minds of serious comedians as they deconstruct their art form for one another. Produced by Ricky Gervais, it includes Chris Rock, Jerry Seinfeld, and Louis C.K. Airs April 22 on the premium cable channel.
EARLY Etta
Even before she became a music superstar, Etta James was making great music, and this is demonstrated on a new compilation of her earliest recordings, Etta James: The Essential Modern Records Collection. Featuring funny songs like "The Pick Up" and "Shortnin' Bread Rock," this collection shows a playful side of James that is often underappreciated. As this album makes clear, the singer of the ballad "At Last" can also tell a joke.
A story of friendship and triumph
Academy Award-winning film The King's Speech, a remarkable movie about a remarkable friendship between King George VI and Lionel Logue, an unorthodox speech therapist, comes out on DVD and Blu-ray April 19. Features include a commentary by director Tom Hooper, special film footage of the real king, and a featurette on the making of the film.
---