Digging down to family roots
Internet's easy access has pumped new life into ancestor research.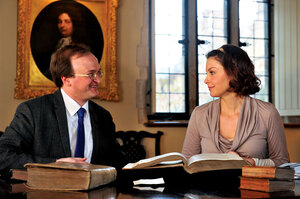 NBC
My ancestor Lambert Van Valkenburg came to the New World from Holland sometime between 1642 and 1644. He settled in New Amsterdam, where he bought about 50 acres, roughly where the Empire State Building sits today.
But Lambert apparently was a restless sort. A couple of years later, he sold off that prime real estate and headed up the Hudson River to try out life in Fort Orange, near where present-day Albany sits. His Manhattan land, meanwhile, went to a fellow by the name of Claes Martensen van Rosenvelt, ancestor of the Roosevelt family.
While many of the Van Valkenburgs spent the next seven or eight generations quietly living in the Hudson Valley and the Catskill Mountains, the Roosevelts made a bigger splash. And now I'm wondering if Lambert could take the blame for the worst land deal since the Indians sold Manhattan for $24.
What's amazing was that I found all these details with a few clicks of the mouse, and now I've developed a fascination with genealogical research. Apparently, I'm not alone.
Recent television shows like NBC's "Who Do You Think You Are?" and the growing sophistication of digitization, search engines, and DNA research mean that Americans are embracing their families' pasts more than ever.
---