Top Picks: a musical tribute to Bob Dylan, 'Too Big To Fail,' Azam Ali's latest album, and more
Recordings of famous musicians performing Bob Dylan classics, an HBO movie about the 2008 economic crisis, a collection of lullabies sung by music superstar Azam Ali, and more recommendations.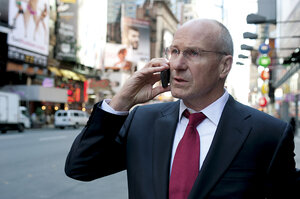 HBO
A star-studded crisis
We lived through it, watched the Oscar-winning documentary "Inside Job," now we can watch Hollywood bring the great economic meltdown of 2008 to life in HBO's Too Big to Fail (May 23, 9 p.m.). The movie stars William Hurt (photo), Paul Giamatti, and Tony Shalhoub and centers on Treasury Secretary Henry Paulson and the symbiotic relationship between Wall Street and Washington.
Lullabies for the little ones
Singer and composer Azam Ali, who was born in Iran, raised in India, lived in the US, and settled in Canada, is a true exemplar of world fusion music. With the birth of her first child, she began collecting lullabies from around the Middle East. The result, From Night to the Edge of Day, is a mix of traditional tunes and new ones that express her sorrow for the children of the region, many of whom live in exile or conflict, along with hope for the future. Her lovely vocal lines and dark ambient settings amply produce the desired effect.
---