Turkey's riverside refugees
The ancient Turkish city of Hasankeyf fights for survival as a new damn is planned.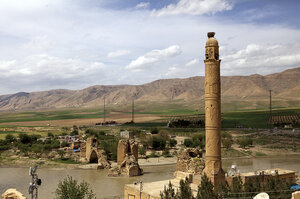 Jonathan Lewis
Hasankeyf, a city overlooking the Tigris River in the Southwestern Anatolia region in Turkey, prides itself on being the oldest inhabited settlement on earth. Having withstood the trials of millenniums and the occupation of civilizations from the Romans, Byzantines, Assyrians, Arabs, and Mongols to the Ottomans, all of whom left their mark, the ancient town now faces the threat of being flooded.
The construction of the Ilisu Dam, officially designed to improve the economy in Turkey's predominantly Kurdish southeast, would see the end to more than 6,000 years of permanent settlement and the relocation of 50,000 residents.
Firat Argun, who runs a guesthouse by the banks of the river, rallies against the construction of the dam. "Our roots are here, much like those of a tree," he says and gestures around him. "This is the only place where I am at peace."
His ancestors migrated to Hasankeyf from Baghdad 300 years ago, and like many local residents, he cherishes his Arab identity. His father and mother both grew up in one of the thousands of caves that dot the cliffs surrounding Hasankeyf where people used to live until the 1970s, when Süleyman Demirel, then prime minister of Turkey, ordered the construction of public housing and the relocation of the cave dwellers.
"The government declared Hasankeyf a protected historic area in 1978," Mr. Argun says. "We were not allowed to move even a single stone. How can they now come and flood the whole town?"
---