Top Picks: Tea with Jane Austen, Soviet students, Lord of the Rings hi-def, and more
The importance of tea in Jane Austen's England, the final generation of students under the Soviet system, Lord of the Rings out on Blu-ray, and more recommendations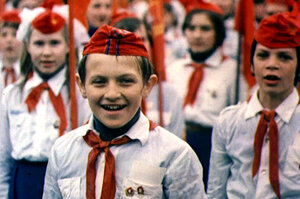 Red Square Productions
A delicious little book
In Tea with Jane Austen, author Kim Wilson examines the social history of tea in Regency England through the lens of Austen's novels. The many roles tea played in the social hierarchy are meticulously detailed along with the different settings at which tea was consumed. The book is enlivened with anecdotes about Austen's personal life, excerpts from her many novels, and scandalous tidbits about tea smuggling. With Wilson's help, this work is the perfect accompaniment to any of Austen's books.
Jazz, Brazilian style
Sultry Brazilian singer/pianist Eliane Elias wraps her jazzy bossa nova style around familiar Top 40 radio chestnuts as well as some homeland favorites on her smooth new release, Light My Fire. The title seems like a fait accompli, the way she coos her way through the title song, swings softly on Brubeck's "Take Five," and turns Stevie Wonder's "My Cherie Amour" into a sexy slow jam. And with countrymen guitarist Oscar Castro-Neves and drummer Paulo Braga laying down irresistible grooves, you'll wonder "Is it hot in here? Or is it just...?"
---