Ham radio hangs on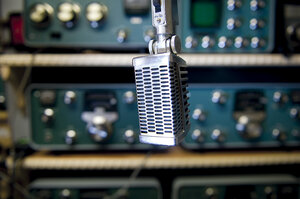 Ann Hermes/Staff
Every Saturday for the past couple of years, the members of the Tuscaloosa Amateur Radio Club have met here, in the back corner of the only Chick-fil-A in this low-slung Alabama river town. They meet to discuss politics and family and sports, but mostly they meet to discuss radio – the paddles, the repeaters, the boat anchors, the birds, and the brass pounders.
Radio is their hobby, their love. They pull up to the fast-food restaurant in trucks kitted out with all manner of antennas, which jut off the cabs like the quills of a metal porcupine, and before leaving, they gather in the parking lot to compare gear. For the two hours in between, they banter in the hyper-specialized slang of hams everywhere.
Ham radio, of course – the noncommercial use of certain radio bands – should be long since dead. It should have been replaced by the rise of the Internet or Facebook. It should have been killed by Twitter, which also allows users to communicate instantly across vast distances. But in towns across the country, hundreds of groups, such as the Tuscaloosa Amateur Radio Club, have soldiered on, hunkering down in basement offices and sending audio messages off into the ether. They have diligently recruited new members and shared their love of the pastime through community events and newsletters. And far from being made obsolete by the Web, hams have used it to create thousands of online message boards and speciality sites.
---