In America's Deep South, a front seat for Freedom Riders
A disused bus station-turned- museum honors some of those who changed the course of civil rights history.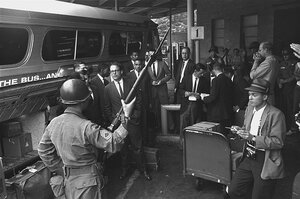 Perry Aycock/AP/File
Fifty years ago, on a hot day in late May, 21 tousled men and women stepped off a Greyhound bus and into the clamor of the Montgomery, Ala., bus depot. They called themselves the Freedom Riders, and for the previous few weeks, they had been hurtling by coach through the American South, from Washington, D.C., to Virginia; from Virginia to North Carolina; and from North Carolina over into Tennessee.
They were students, most of them, black and white, 20- and 30-somethings, schooled in the ways of nonviolent protest and encouraged by the recent success of the Greensboro, N.C., lunch counter sit-ins. Their aim was to test a Supreme Court ruling banning segregation at bus and railway stations – a ruling that had largely been greeted with a shrug by Southern officials.
---