Provincetown art colony: Where light, water, and art meet
Provincetown, Massachusetts continues its seasonal tradition of vibrant colors and characters.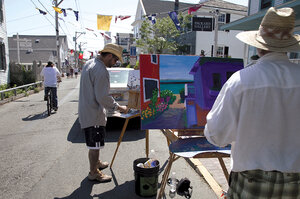 Carolyn Bubel/The Christian Science Monitor
Summer art colonies are permissive places where artists can let down their hair, paint or write with less worry about critics, and socialize with like-minded people. Such colonies can often be insular places, but not Provincetown, Mass, at the far tip of Cape Cod.
I've come on a two-day exploration of the town and its fabled arts colony past. With the definitive book "Provincetown as a Stage," by Leona Rust Egan, tucked under my arm, I arrive at the Provincetown ferry dock on a windy, choppy morning in mid-June. I survey the waterfront, trying to imagine how Eugene O'Neill might have seen it on his first visit in 1916, the summer that proved a turning point in his playwriting career. Perhaps, as I did, he found the Pilgrim Monument an odd landmark, with its grandiose Italianate tower rising above gabled Victorian homes and Greek Revival buildings.
Locals describe the town, without too much exaggeration, as "three miles long and two streets wide." Cars are unnecessary because most of the 60 galleries, 170 restaurants and cafes, and dozens of inns, bed and breakfasts, and hotels are within walking distance.
---