Top Picks: Korean food, hipster farmsteads, self-appointed superheroes, and more
A culinary tour of South Korea on PBS, farming skills for city dwellers, a documentary on caped vigilantes, and more recommendations.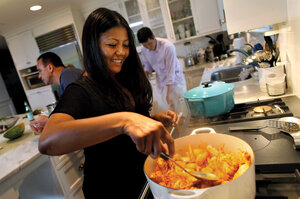 Craig Ruttle/AP
Urban farmers
Urban Homesteading, by Rachel Kaplan with K. Ruby Blume ($16.95, Skyhorse Publishing), is a how-to guide for sharpening "heirloom skills" (raising chickens, growing food, canning, seed saving, composting, etc.) within city limits. The authors are advocates of preserving the planet for future generations through sustainable living. Packed with information and photos, the book has proved so popular with urban hipsters it has already sold out its first run. A second shipment is expected in mid-September.
Don't call it a comeback
Sultry soul singer Joss Stone hit the ground running with her smash debut "Soul Sessions" in 2003. Since then, the talented Brit's record sales have slid downhill. Last year she dumped her label; relocated to Nashville, Tenn.; and started fresh with a funkier, stripped-down, rootsy sound produced by Dave Stewart of Eurythmics fame. Think of Aretha Franklin, Janis Joplin, and Tina Turner in a blender and you'll get the drift of Ms. Stone's new release "LP1." The songs have your typical themes of love and betrayal, the band is tight, and oh, can this girl sing!
---