Wildlife art: portraits of an untamed country
An exhibit on North American wildlife art inspires passion and informs science.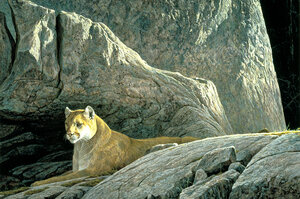 Artwork courtesy of the National Museum of Wildlife Art
For nearly a month, Dwayne Harty never saw a jet contrail tapering overhead in the sky as he traversed the wilderness of Canada. If that seems unusual, what he did encounter was even more remarkable: five notoriously reclusive wolverines, a dozen grizzly bears, caribou, and bighorn sheep streaming through preternatural gaps in glacier-coated mountains.
Whenever wolves howled, which at the far northernmost extension of the Rocky Mountains was a daily occurrence, he could feel the pounding heart of his packhorse beneath him.
Like other famous wildlife painters before him, Mr. Harty sought out a frontier untrammeled by civilization. What he brought back from his multiyear sojourns are stunning chronicles on canvas of ­solitude-seeking animals – "indicator species" whose well-being can telegraph environmental conditions to monitoring scientists and society at large.
"This incredible assemblage of wildlife art," says conservationist-turned-art curator Harvey Locke, "is like having a three-way mirror positioned in front of one of the wildest terrestrial corridors on Earth. And, lo and behold, it happens to be situated in the backyard of America and Canada."
---