Top Picks: Jeff Bridges's CD, dinosaurs on Discovery Channel, 'Everything Must Go' DVD, and more
Oscar-winner Jeff Bridges releases first CD, 'Dinosaur Revolution' on Discovery introduces new species, Will Ferrell comedy 'Everything Must Go' comes out on DVD, and more top picks.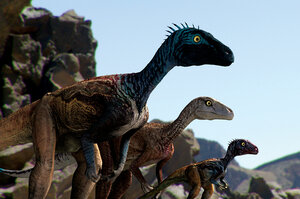 Discovery Channel
Prehistoric birds
Dinosaur Revolution is a two-part, four-hour look at the latest lore about the largest beasts ever to wander this planet. Peppered with state-of-the-art graphics, this Discovery Channel journey features brilliantly colored creatures more akin to birds than reptiles and the show introduces new species, such as a Jurassic squirrel and a frog big enough to eat, well, a dinosaur. Debuts Sept. 4 at 9 p.m.
Luminous voices
Sony Classical continues its archival masterwork releases with four Verdi classics. Remastered from the broadcast series, now available for the first time on CD: Don Carlo (1964), Il Trovatore (1961), Rigoletto (1964), and Un Ballo in Maschera (1955). The broadcasts feature such luminous voices as Leontyne Price, Robert Merrill, and Marian Anderson.
The Dude sings
Jeff Bridges has always been a musician. So he wasn't acting when he entered the recording studio a year after his Oscar-winning performance as world-weary country singer Bad Blake in "Crazy Heart." The music on his self-titled album is much like the Jeff Bridges we all know and love – honest, soulful, and very, very laid-back. Helmed by superproducer T Bone Burnett, Jeff Bridges features a who's who of tasteful players, and, while breaking no new ground, casts a most agreeable spell.
---