Radio fading away?
Not so fast. Radio is adopting some online, internet-streaming tricks.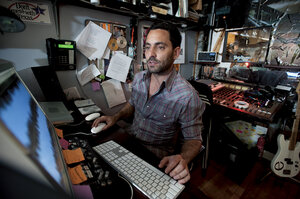 Ann Hermes/staff/File
For years industry analysts have been predicting the "death" of radio. Satellite radio – Sirius XM has about 21 million subscribers – was supposed to be its demise in the first decade of this century. But one of the great benefits to predicting the future is that there's rarely a cost to being wrong; when events disprove a past prediction, simply move on to the next bit of sage prognostication.
The latest suspect in radio's impending extinction is Internet music services such as Spotify and Pandora that promise to offer a level of personalization and user control that commercial, or terrestrial, radio can't match. But radio stubbornly lives on: According to the research firm Arbitron, 190 million Americans ages 12 and older listen to radio on a weekly basis. What's more is that for musicians, despite the utility of YouTube, Twitter, or iTunes, the mass reach of radio is still the easiest way to break out big as an artist.
So what's happening in the strange new world of Internet music, and will the prognosticators ever be able to see their prophecy fulfilled? And what will be the effects for musicians?
---