Japanese writer Haruki Murakami's prescient fiction
Japanese writer Haruki Murakami uses his novels to peel back the layered chaos of an uncertain world.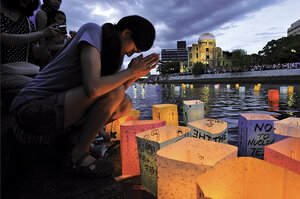 Kimimasa Mayama/Newscom
In Haruki Murakami's world, fish fall from the sky near a Tokyo train station, backyard wells lead to personal and political violence, and a giant frog tells a businessman how to save Tokyo from its next major earthquake. The mundane mingles with the absurd, but neither offers solutions in a universe bent toward chaos.
Mr. Murakami cites Franz Kafka as one of his major influences, yet he warms Kafka's chilly detachment with Japanese earnestness, producing novels that anticipate apocalypse without succumbing to easy cynicism. In Murakami's world, chaos is softened by empathy – a quality in sorrowfully short supply, in fiction or in reality, in our 21st century.
"Everything is uncertain," muses Tengo, the male protagonist of Murakami's forthcoming novel, "1Q84," "and ultimately ambiguous." In Murakami's world, uncertainty is the norm. But once you accept it, his stories suggest, you can live and love accordingly.
Murakami's native land, Japan, has honed apocalyptic narratives by necessity. The only nation to have been victimized by the atomic bomb in 1945 is an archipelago slightly smaller than the state of California, subject to typhoons, volcanoes, earthquakes, and tsunamis – the latter of which recently destroyed the homes and livelihoods of much of its northeastern population. The brutal irony of the nation's embrace of nuclear power after its World War II blasts was summarized by Murakami himself during an awards speech in Barcelona this spring: "The accident at the Fukushima Daiichi nuclear power plant is the second major nuclear detriment that the Japanese people have experienced," he said. "However, this time it was not a bomb being dropped upon us, but a mistake committed by our very own hands.
---