Top Picks: Miami City Ballet on PBS, New York Times documentary on DVD, new Feist CD and more
Miami City Ballet Dances Balanchine & Tharp from "Great Performances" airs on PBS' Arts Fall Festival, Documentary follows The New York Times as it enters world of social media, Grammy-winner Feist releases new CD and more top picks.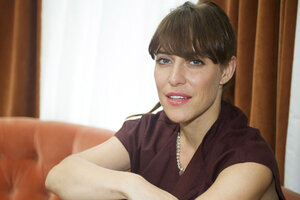 Charles Sykes/AP/File
Feist returns
She's Canada's alt-rock goddess and 2008 Grammy winner (for the impossibly catchy "1234"). She's Feist, and she has just crafted a sonically gorgeous, intimate, and altogether glorious new album, Metals. A true original, her lyrics, melodies, and métier emanate from some special place only a gifted artist can conjure. Fortunately – every few years or so – she invites us in for a glimpse. Standout tracks include "A Commotion," "Undiscovered First," and "Caught a Long Wind."
Truth or Hollywood fiction?
Ever watch a movie and wonder how closely the based-on-a-true-story tale matches up to the truth? The people at ChasingTheFrog.com did, too – the website researches the facts behind the cinematic adaptation. One example: There apparently was not a newspaper article published detailing "The Social Network" character Eduardo Saverin's animal cruelty. "There was no mention of him or cannibalism in the article," Chasing The Frog concluded.
Dance into fall
Miami City Ballet Dances Balanchine & Tharp from "Great Performances" airs on PBS Oct. 28 at 9 p.m. This is part of the PBS Arts Fall Festival. Artistic director Edward Villella's company performs George Balanchine's "Square Dance" and "Western Symphony" and Twyla Tharp's "The Golden Section."
---
Follow Stories Like This
Get the Monitor stories you care about delivered to your inbox.