Muppet make-over: Kermit the Frog, Miss Piggy reintroduced this fall
It may not be easy being green like Muppet favorite Kermit the Frog, but sometimes it's even harder to be hip.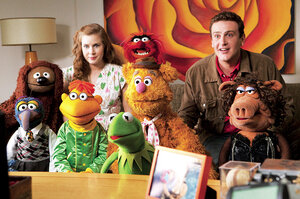 Disney Enterprises
While Kermit the Frog still may not find it easy being green, his movie company is anxious about more pressing matters: being relevant.
That's why Jim Henson's star amphibian is being reintroduced this fall in a new film that aims to please not just children but parents who still cherish the frog's folksy, banjo-strumming ways and frequent body slams by his longtime paramour, Miss Piggy.
The Muppets, those felt-padded anarchists known for vaudevillian high jinks, ruled 1970s television and launched a short-lived Hollywood franchise. They faded soon after, unable to find their place among animated fare that was faster ("Toy Story"), darker ("Transformers"), and more irreverent (SpongeBob Squarepants). In other words, children's entertainment entered a Bart Simpson world, which meant winking social commentary and snarky jabs were now just as requisite as live-action pratfalls and pie fights.
So when Disney bought the Muppets from Henson's heirs in 2004 for $68 million, the long slog to bring Kermit and the gang back meant testing the waters to determine if the Muppets still have cultural relevance.
---