Dead sea scrolls come alive
Ancient Dead Sea Scrolls find new accessibility in New York's bustling Times Square.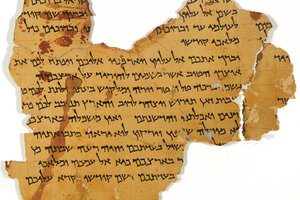 Israel Antiquities Authority
They are mostly scraps of animal skin or papyrus. Written as scrolls, 90 percent are just fragments now, 2,000 years after ancient scribes set down their words in Hebrew, Aramaic, or Greek.
Yet because these fragile documents contain the earliest known copies of texts sacred to all three Abrahamic religions – Judaism, Christianity, and Islam – they inspire endless fascination for scholars, as well as amazement and even reverence for many others.
More than 60 years after the first of them were discovered in caves at Qumran, in the West Bank about 13 miles east of Jerusalem, the Dead Sea Scrolls are beginning the second phase of their modern existence.
The first consisted of finding, preserving, translating, and cataloging them. Now scholars increasingly are asking deeper and harder questions about context and meaning.
The scrolls are staying in the public mind in two ways: The first is a series of traveling exhibitions that allows large numbers of people to see these venerable objects, nearly all of which are held by two institutions – the Israel Museum, in Jerusalem, and the Israel Antiquities Authority (IAA).
The latest and biggest exhibition to date (when including other artifacts), "Dead Sea Scrolls: Life and Faith in Biblical Times," opened last month at Discovery Times Square in New York City. (See interview with the head of Discovery Times Square at right.)
---