Gift ideas for everyone: 'Harry Potter,' Adele, 'Law & Order,' and 'Super Mario 3D'
Your gift list can get long with nieces and nephews, grandparents and friends all needing a present this holiday season. Try a few of these items that are sure to please like 'Winnie the Pooh,' 'Ken Burns: Prohibition,' and the video game 'Uncharted 3: Drake's Deception.'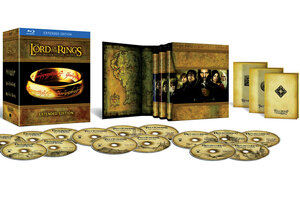 FAMILY VIEWING The Lord of the Rings: The Motion Picture Trilogy Extended Edition ($119.98)
The director's cut of Peter Jackson's three visual masterpieces will keep you pinned to the couch for a full 12 hours – and many more if you throw in the massive amounts of extras. Besides interviews with Jackson, the cast, and the production team, there are several documentaries, including how the novels were adapted into screenplays and visits to the Weta Workshop (a special effects and prop company). Ride through Middle-earth, beginning with "The Fellowship of the Ring," into "The Two Towers," and finish off with "Return of the King," in the eye-popping clarity of this new high-definition box set on Blu-ray. Extras are on standard DVDs.
Harry Potter: The Complete 8-film Collection ($98.92)
This was the year that "Harry Potter" fans everywhere, young and old, said goodbye to the boy wizard as the final film rolled out. All eight of the movies – the last film is in two parts – are neatly packed into this slim, DVD collection (also on Blu-ray), which is chock-full of extras – from interviews with the filmmakers and the books' author, J.K. Rowling, to tours of Hogwarts' secrets. This is perfect for the family-vacation "Harry Potter" marathon. Serve up the popcorn and hot chocolate and settle in for a journey from "Sorcerer's Stone" all the way to "Deathly Hallows," Parts 1 and 2.
Dr. Seuss's Holidays on the Loose ($26.98)
This Dr. Seuss triple feature is for the true Grinch fans out there. The two-disc DVD includes the classic Seuss story of "How the Grinch Stole Christmas," along with lesser-known tales of the Grinch trying to trip up that cool Cat in the Hat and bully the Whos of Whoville on Halloween. The classic Grinch tale is definitely the standout star in this collection, but the colorful drawings, quick-rhyming characters, and kooky phrases carry through each animated piece. The supplemental features offer a window into the life of author and illustrator Theodor Seuss Geisel, more commonly known as Dr. Seuss. Music lovers can skip from one musical scene to the next by visiting the Song Selections feature, learning some Seuss-original carols along the way. "[E]verybody hates Christmas a little bit and nobody better dare deny that," says Chuck Jones, animator, coproducer and director of "How the Grinch Stole Christmas," but this DVD is sure to get even the grouchiest Grinch in the holiday spirit.
---