Teaching on the run
Life lessons from a 100-mile expedition in the Indian desert.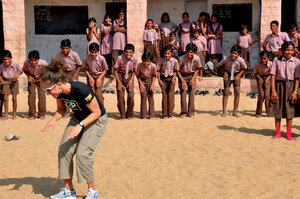 Rebecca Byerly
Over the past five days, 18-year-old Canadian Emma Cook-Clarke and three other young people from India and the United States have run more than 100 miles through the Thar Desert, a seemingly endless, sweltering stretch in northwest India.
Except for the occasional passing camel herd, grazing water buffalo, groups of surprised children, and huge horn-squelching trucks, the route is monotonous.
To do a more thorough job reporting on the feat, this reporter decided to join the run. It's my first day and I lag a quarter mile behind. Only 10 miles in, I already want to quit. Though I'm an experienced ultramarathon runner, this is one of the most difficult terrains I have ever traversed. It's hot, flat, and seems to go on forever.
A decade older than Ms. Cook-Clarke, a recent high school graduate, I wonder how, at such a young age, she has the drive to keep going. But then I realize what propels her. This is much more than a run. It's an expedition with a purpose. Her role as a youth ambassador, one of four who were selected for the expedition, is to reach beyond her perceived limits and use adventure as a medium to educate, inspire, and empower.
While budgets for education are being cut across the US and Canada, this innovative program called impossible2Possible (i2P) offers learning tools free of charge to any school that signs up, exemplifying where education is headed in the 21st century.
---