Cities are banking on the arts
Once the first thing to be cut in a time of recession, the arts are proving their worth.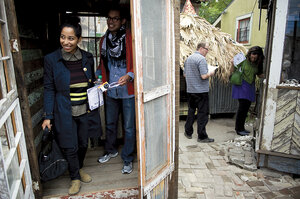 Ann Hermes/Staff
"It's necessary to invest in our cultural organizations in tough economic times," New York Mayor Michael Bloomberg said at a recent opening of a new nonprofit theater. "Make that especially in tough economic times." No wonder, since one-half of 50.5 million tourists in 2011 claimed they came to enjoy the city's cultural attractions, boosting the local economy by $32 billion.
It's not just recognized cultural hubs touting the value of the arts. Communities as diverse as Paducah, Ky.; Park City, Utah; and Buffalo, N.Y., consider the arts no longer in need of a handout but the go-to source of a hand up. What began as a murmur is becoming a roar.
Partly responsible for this shift is Richard Florida's 2002 book "The Rise of the Creative Class." "Richard Florida has had an impact on every city in the world," says Elaine Mariner, executive director of Colorado Creative Industries, a state economic-development entity. Banking on the arts, the book states, pays off like compound interest.
The new paradigm shows how artists moving into a distressed area (like New York City's SoHo in the 1960s) transforms a sinkhole into a boomlet. First, hipsters in fedoras make it a happening place. Then techies, entrepreneurs, affluent residents, and tourists flock in. Restaurants, galleries, shops, and upscale amenities sprout, bringing jobs, tax dollars, and cachet.
---