Top Picks: 'I, Claudius,' improv on the subway, and more
Marlon Brando and Vivien Leigh make film history in 'A Streetcar Named Desire,' a documentary tells the story of starlet0turned nun Dolores Hart, NASA captures video of swirling plasma on the sun, and more top picks.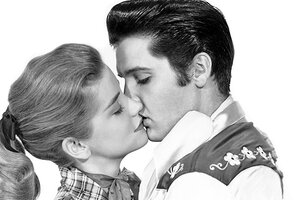 HBO
Leaving Elvis
The Academy Award-nominated film God Is the Bigger Elvis, about Dolores Hart, a Hollywood starlet (the first to receive an on-screen kiss from Elvis) who traded that world for life as a Benedictine nun, debuts on HBO Thursday, April 5, at 8 p.m. EST. This 37-minute documentary takes viewers inside the rarefied cloistered Abbey of Regina Laudis in Connecticut to tell a story at once timeless and modern.
Tornadoes in space?
Think you stumbled onto an old clip from "Star Trek"? Think again. Space.com has uploaded a video captured by NASA's Solar Dynamics Observatory of plasma swirling over the surface of the sun in a manner that resembles a tornado. The glowing black surface of the sun itself is almost as fascinating. Check it out at http://bit.ly/spacetornadoes.
'Hey Stella!'
---