New Orleans's post-Katrina artistic revival is in full swing
Galleries are flourishing despite the market and indie movies are on a roll – jumpstarting the whole arts scenes, but to a slightly different rhythm.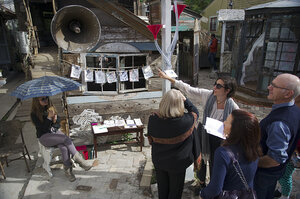 Ann Hermes/Staff/File
When you arrive at the Louis Armstrong New Orleans International Airport and hear Satchmo's trumpet pour out soaring notes of "Way Down Yonder in New Orleans," your pulse revs up with a bubble of joy. Then you can't help bouncing when Hank Williams's twangy lyrics promise: "Son of a gun, we'll have big fun on the bayou." Music encapsulates the poles of the city's culture: incandescent art and raucous celebration.
When the levees burst after hurricane Katrina in 2005, flooding 80 percent of the city and killing more than 1,700 residents, for a while there was neither art nor reason to celebrate. Now, however, a grass-roots artistic renaissance is marching in to lift spirits. It's found in collective art galleries sprouting in a scruffy section of town and young, indie filmmakers telling big stories with small budgets.
Artistic revival? "It's visible in the air, it's on the ground, you see it in galleries opening, in people showing up for film screenings – it's palpable," says Glen Pitre, the dean of the New Orleans independent film scene. "Folks feel like they're part of rebuilding the city, but it's not just selfless. It's also a desire to hop on a fun, fast-moving train going somewhere exciting."
"What's happened is an astonishing burgeoning of galleries every place on St. Claude Avenue," says longtime New Orleans gallerist Andy Antippas, who's organizing another collective. The movement started with a handful in 2008, and now there are arguably more galleries run by broke artists on this one-mile strip, per capita, than in any city of comparable size in the United States. Compared with the tepid art market and lack of institutional support for contemporary visual art here, "it's totally out of whack," says Jessica Bizer, a member of Good Children Gallery.
---