Top Picks: Bonnie Raitt's newest CD, a 'Frontline' feature on Wall Street, and more
'Missing' on ABC is fun for its globe-trotting, Nat Geo Wild offers an in-depth look at India, and more top picks.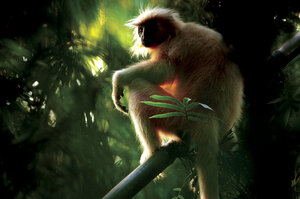 Sandesh Kadur/National Geographic Channel
Raitt timing
Slipstream, Bonnie Raitt's latest CD, brings us into her psychic living room for a reassuring aural hug. After a seven-year absence, she is back in the studio, more intimate and soulful than ever. Her familiar offerings of rockers, country blues, and ballads are here. But her signature slide guitar sound burrows deeper; the ballads are more plaintive. Collaborations with producer Joe Henry offer lush textures that underscore Raitt's musicianship and sensuous gravel-laced voice.
Unspeakably charming
Winner of the Best Picture Oscar this year, The Artist harks back to the days of swashbuckling silent film stars. French actor Jean Dujardin plays George Valentin, a Douglas Fairbanks type with panache to spare. And Bérénice Bejo, playing an actress whose star is rising as George's is falling, has a fresh-faced incandescence. Out on DVD April 23.
India's wild treasures
Secrets of Wild India, a three-part series narrated by David Attenborough, debuts on Nat Geo Wild April 29 at 8 p.m. The show displays the vast cornucopia of exotic wildlife still at play in the remotest areas of India, showcasing herds of Asian elephants, wild buffalo, one-horned rhinoceros, and the mighty king cobra. Think Rudyard Kipling's menagerie brought to vivid life.
chefs in your kitchen
---