'Half the Sky' exhibition hopes to inspire action
Based on the Nicholas Kristof and Sheryl WuDunn book, the 'Half the Sky' exhibition in L.A. looks at oppression of women around the globe and ways to strengthen and empower them through education and jobs.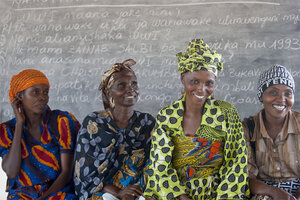 Courtesy of Les Stone/Skirball Cultural Center
The folk saying "a hen cannot speak in front of a rooster" expresses a cultural bias that silences women's voices in Burundi. An exhibition called "Women Hold Up Half the Sky" at the Skirball Cultural Center in Los Angeles until May 20 profiles a 36-year-old mother of six, Goretti Nyabenda, who was powerless in her family, saying, "I had no voice." Defying her husband, determined to escape his beatings, Goretti joined a solidarity group sponsored by the aid organization CARE. After she received a $2 loan, she built a thriving banana-beer business.
"Now I know I have good ideas," Goretti (who has become a community leader) crows, "and I tell people what I think."
The title of the exhibition comes from a Chinese proverb "Women hold up half the sky." The exhibit is based on the bestselling book by Pulitzer Prize-winning journalists Nicholas Kristof and Sheryl WuDunn, "Half the Sky: Turning Oppression Into Opportunity for Women Worldwide." Both book and exhibition focus on negative realities (trafficking, gender-based violence, and maternal mortality) and how empowering women through education and bringing them into the labor force provides positive gains.
It's an exhibition with a mission. "It was a challenge," according to consulting curator Karina White, "to take these really overwhelming and devastating issues and think about how to present them to inspire people to action."
---