Top Picks: The soundtrack to the HBO series Treme, CNN's series about the postwar era, and more top picks
National Geographic follows paleoanthropologist Richard Leakey and his family, a videographer uniquely captures his children's lives, and more top picks.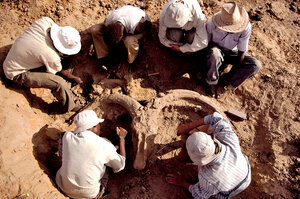 NGS/PBS
War in high definition
The War, a 2007 PBS miniseries about World War II crafted by documentary-maker par excellence Ken Burns and Lynn Novick, goes Blu-ray May 15. In addition to the 15-hour production, viewers will find a "making of" feature, deleted scenes, commentary from Burns, and additional interviews. Burns captures much of what the war meant to Americans then – and means to them now.
History in perspective
The sweeping, 24-episode CNN series about the postwar era, Cold War, is out on DVD May 8. Narrated by actor Kenneth Branagh, the series contains original archival material from around the globe, and features interviews from key political leaders such as Mikhail Gorbachev, Fidel Castro, Jimmy Carter, Lech Walesa, and others. It's a library must for the history buff.
Tracking man's footsteps
The Bones of Turkana, an award-winning National Geographic special airing on PBS, follows legendary paleoanthropologist Richard Leakey and his family as they paint an indelible picture of the transformation of a species – ours – from tree-swinger to fast-running, quick-thinking, stone-tool-making linguist. The special follows 40 years of digging to show why the Leakeys believe Turkana, nestled in the African landscape, holds revelations about our past and prophesies about our future. Airs May 16 on PBS at 10 p.m.
---