Top Picks: Fourth of July celebrations, the Olympics on Facebook, and more
An iPhone game gets a 'Brave' makeover, musician Mike Stern has mass appeal, and more top picks.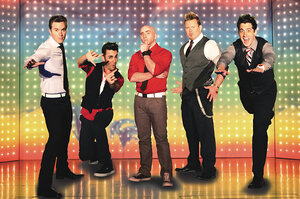 Courtesy of VoicePlay
Tune into the fourth
July 4 is awash in live TV specials. Celebrate the Fourth with PBS as it broadcasts from the nation's capital with the National Symphony Orchestra and conductor John Williams, featuring performers such as Matthew Broderick and Olympians delivering a send-off to the US team as it heads to London. Then you can head over to CBS for its Boston Pops extravaganza on the Charles River Esplanade, where singer Jennifer Hudson will perform. PBS's "A Capitol Fourth" airs at 8 p.m. ET. The "Boston Pops Fireworks Spectacular" airs on CBS at 10 p.m. ET.
Complete Stravinsky
As if you needed another reason to reexamine Stravinsky's perspective on his own ballets, Sony Classical has unearthed everything it has recorded on the matter. That's right – everything from "The Rite of Spring" to "Agon" (all conducted by the maestro himself) has been condensed and neatly packaged for your sonic delight in Sony Classical's new Masters series. The box set includes seven CDs for a grand total of eight hours of an iconic past.
An orchestra of voices
VoicePlay (formerly known as 42Five), a whimsical a cappella group, releases its debut full-length album Once Upon An Ever After July 10 with a national tour launching in September. The album is a compilation of original medleys inspired by Disney movies. Each track offers twists on Disney's classic soundtracks by featuring only vocals re-creating an entire orchestra.
---