Top Picks: 'Reading Rainbow,' Ridley Pearson's The Risk Agent, and more
'Up Heartbreak Hill' follows Navajo teen athletes struggling with their future, James May explores how technology has revolutionized modern life, and more top picks.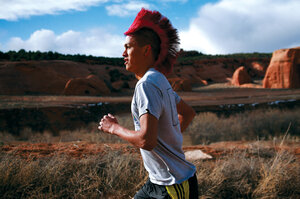 Courtesy of Anthony Thosh Collins/PBS
One for the beach
In The Risk Agent (Putnam, 432 pp.), by Ridley Pearson, everyone gets shanghaied in Shanghai. Grace Chu, a Chinese forensic accountant who served in the Red Army, and John Knox, a wandering American war zones contractor, are hired by a private security company in Hong Kong to resolve a kidnapping. Pearson delivers a roller coaster of deceits and double crosses. It all adds up to the perfect summer read: not too heavy, not too light, and plenty of fight.
On track toward the future
In the PBS POV documentary Up Heartbreak Hill, director Erica Scharf turns her camera mostly on two Navajo teenage track athletes, Thomas Martinez and Tamara Hardy. The high school seniors raised on a reservation in New Mexico struggle to reconcile their dream of going to college with their parents' desire to have them stay close to home. It premières July 26.
Desert dreams
Salmon Fishing in the Yemen, a charming, independent film based on the award-winning Paul Torday novel of the same name, is now available on Blu-ray and DVD from Sony Pictures Home Entertainment. The tale is nominally about the unlikely upstream efforts of a team trying to bring fishing to the desert. But it's really about love, faith, and the power of a sheikh's dream to make the deserts of life bloom.
Time sleuth
---