From rock to country and back
Grace Potter & The Nocturnals sample country with a spot on Kenny Chesney's tour.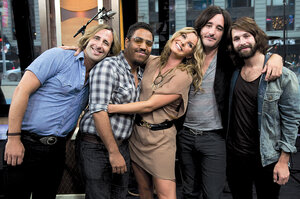 Charles Sykes/AP
Grammy-nominated country singer Kenny Chesney has been featuring an unusual element on his concert tour with Tim McGraw this summer. It's not a fledgling fellow country musician opening their show, but indie-rockers Grace Potter & the Nocturnals.
Instead of earthy harmonies and slide guitar, Potter wields a Flying V Gibson, screams like a banshee when the urge strikes, and leads a band that won't be mistaken for Rascal Flatts anytime soon by the surprised if not intrigued country fans filling the stadiums.
"Overall it's positive, but I do think there's a lot of baffled people," Potter says during a recent telephone interview from California. "I look on some people's faces and there's a look of utter confusion. And I look on other people's faces and there's pure joy and they're dancing around like crazy."
Potter and her Nocturnals – guitarists Benny Yurco and Scott Tournet, drummer Matt Burr, and bassist Michael Libramento – travel a road familiar to many outsider musicians who, at one point or another, found themselves on Music Row in Nashville, Tenn.
Bob Dylan switched directions way back in 1969. More recently, so have Darius Rucker, Robert Plant, Bon Jovi, Nelly, Kid Rock, and Lionel Richie, among others.
---