Top Picks: Running late? There's an app for that, West African music, and more
A Boston time-lapse video captures the city with haunting music, eBookMall.com brings 'American Idol' for books to the Internet, and more top picks.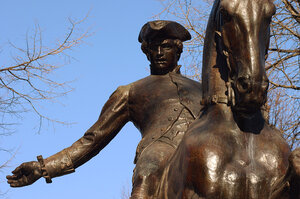 John Nordell/TCSM/File
A new voice in Afro-funk
Togolese singer Massama Dogo and his seven-piece Washington, D.C.-based band Elikeh have re-created that revolutionary period of West African music, the time when Afro-funk stars like Fela Kuti and reggae stars like Bob Marley were mixing in black-pride politics with their tunes. Elikeh's Between 2 Worlds bears that same imprint, with pounding rhythms, tight horn sections, and long guitar jams. With such a great freshman album – paid for largely from an innovative Kickstarter funding campaign – their next album is sure to rock.
HYMNS of praise
Górecki Miserere, a 17-cut CD by Decca Recordings, features three sublime, meditative choral pieces by Polish composer Henryk Górecki and performed by the Los Angeles Master Chorale in the rich acoustics of Walt Disney Concert Hall. Górecki was noted for championing Poland's struggle for independence from Soviet control; his 12-movement "Miserere" was written in 1981 as a protest against a violent attack by police on union activists in Bydgoszcz.
Passing time in Beantown
---