Top Picks: 'Jesus Christ Superstar' in movie theaters, Neil Young's memoir, and more
The Piano Guys mix genres on their first album, 'Daily Show' vet Mo Rocca explores U.S. voting laws, and more.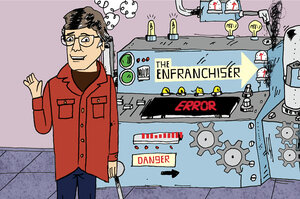 PBS
Rocca the vote
In Electoral Dysfunction, Mo Rocca, a former correspondent for Comedy Central's "The Daily Show," hosts a 90-minute traipse through the complicated maze known as America's voting laws. Surprisingly, the US Constitution does not spell out a right to vote. Instead, it leaves details of voting rights and regulations to the states – a process now run through some 13,000 voting districts, each with its own set of rules. Airs Oct. 30 on PBS. Check local listings.
Of biblical proportions
On the heels of its triumphant updated London production, Jesus Christ Superstar UK Rock Spectacular comes to select US movie theaters Oct. 29 and Nov. 1. This satellite event comes from NC Fathom Live, and includes a retrospective on the iconic Tim Rice/Andrew Lloyd Webber musical as well as interviews with cast members. Check for local theaters at FathomEvents.com.
Maverick in mutton chops
Look up "maverick" in the dictionary and you might see a photo of Neil Young, grinning mischievously, 1970s mutton chops and all. Has anyone ever been less predictable or more mercurial? Now the alternately unapologetic rocker and sensitive folkie has written his memoir, Waging Heavy Peace: A Hippie Dream. It reads like an unstructured, rambling Young guitar solo. It jumps around in time, revealing less about the musicmaking and a bit too much about the man. But like Young's messy and fascinating style, it's ultimately appealing. The dude abides.
Hidden world
---