Top Picks: Oliver Stone's US history, a three-CD Creedence Clearwater Revival compilation, and more
CeeLo Green celebrates the holidays with a new CD, the History Channel explores the story of humanity, and more top picks.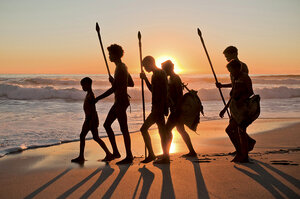 History Channel
Love at first strum
Guitar player and teacher Julia Crowe explains the genesis of her book, My First Guitar: "Just how does anyone get so passionate about the guitar that they can't imagine a life without it?" Her subjects – jazz, rock, and classical guitar heroes including Andy Summers of The Police; The Byrds' Roger McGuinn; jazzer George Benson; and the reclusive, press-averse guitar legend Jimmy Page of Led Zeppelin – 76 string wizards in all­ – describe their first encounters with the instrument that would become their lifelong companion and ticket to fame.
History's margins
Filmmaker Oliver Stone has never been shy about putting his personal stamp on a project. Showtime's upcoming Untold History of the United States, co-written and narrated by Mr. Stone, is no exception. In partnership with historian Peter Kuznick, the 10-part series takes the important events of the 20th century and expands the narrative to include overlooked players and newly discovered facts from the Kennedy administration and the Vietnam War. Begins Nov.12.
---