Top Picks: International light displays, the albums of classical music Grammy nominees, and more
The website Complex provides a behind-the-scenes glimpse into Amazon's warehouses, PBS airs the history of a renowned ballet company, and more.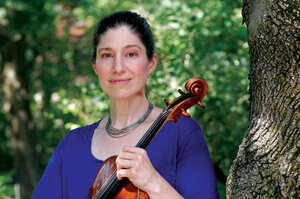 Courtesy of Claire Stefani
Light up the night
Craving more holiday lights than your tiny yard can hold? Check out National Geographic's gallery of the Top 10 places to see light displays all over the world, from Vienna, which boasts a multitude of white lights, to Medellín, Colombia, which has huge 3-D figures and an airplane made of lights, among other sights. Go to http://bit.ly/hlights.
Fjord meditations
Norwegian jazz/electronica guitarist Eivind Aarset has teamed up with producer and sample master Jan Bang on Mr. Aarset's first recording as leader for the renowned Munich-based ECM Records. The mysterious and subtle collection on Dream Logic features bowed, looped, and otherwise processed guitars, set in a landscape of mbira, percussion, and atmospheric sound samples. It's a perfect soundtrack for a moonlit wander across a frozen fjord.
Classical Grammy nominees
The Grammy nominations offer some perfect stocking stuffers for classical music lovers this year: Kim Kashkashian for her album Kurtág/Ligeti: Music for Viola and András Schiff for his recording of J.S. Bach's Das Wohltemperierte Clavier. Ms. Kashkashian's performance of solo music by the great Hungarian composers Kurtág and Ligeti is what many critics are calling a landmark recording. Mr. Schiff returns to Bach as a veteran, earning more acclaim for his New Series recordings of the Goldberg Variations and the six partitas.
---