Oldsters are hip in Hollywood
Older actors are triumphing during awards season and at the box office, and they don't seem to be leaving pop culture anytime soon.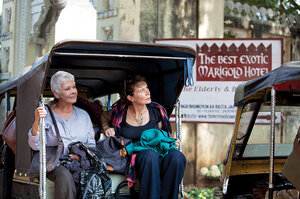 Fox Searchlight Films/AP
It sounds like a fairly rote story for a Hollywood crime drama – after a mobster gets out of jail, he and his old buddies team up for a wild night on the town.
What sets "Stand Up Guys" apart? The leads, Christopher Walken, Al Pacino, and Alan Arkin, shuffle instead of leap into a stolen getaway car.
Yet "Stand Up Guys," with its not-so-young stars, isn't an oddity in entertainment anymore. Think of comedian Betty White's recent resurgence. Or Taco Bell's lauded Super Bowl commercial of oldsters gyrating on the dance floor. It seems Grandma and Grandpa not acting their age has become a lucrative story line.
As for full-length features with a cast of seasoned actors, "The Best Exotic Marigold Hotel" (2012) is helping to prove that youth-obsessed pop culture is growing up. The story of a group of retired British tourists living in a ramshackle hotel in India, portrayed by legends Maggie Smith, Judi Dench, and Tom Wilkinson, grossed more than $46 million in the United States.
---