Top Picks: 'Wait Wait... Don't Tell Me! Live,' a documentary on William Randolph Hearst, and more
The app Dark Sky lets you keep track of your personal weather, HBO examines the relationship between elephants and people, and more top picks.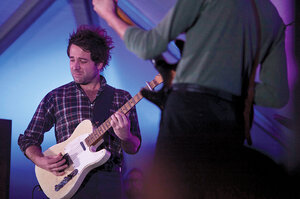 AP
The bard and the king
Many Bard lovers think Shakespeare flowered not only under Queen Elizabeth I, but also under the king who succeeded her, James I. Shakespeare: The King's Man (Acorn Media) is a 2012 BBC documentary on DVD that explores the dark, complex plays of Shakespeare's last decade. Dig into "King Lear," "Macbeth," and "The Tempest," which mirrored both royal life and the era's profound social changes. A bonus disc features the BBC's 1983 production of "Macbeth."
Quiz-show theater
If you are a regular fan of listening to NPR's Peabody Award-winning quiz show, now you can watch the action unfold in Wait Wait … Don't Tell Me! – Live. It has been adapted for the stage and will be broadcast live on the big screen in select US movie theaters. Host Peter Sagal is accompanied by panelists Paula Poundstone, Mo Rocca, and Tom Bodett as they play the game in front of an audience at New York University's Skirball Center for the Performing Arts, Thursday, May 2, at 8 p.m. For tickets and more info, go to fathomevents.com.
---