A new crop of domestic mavens
Actresses like Gwyneth Paltrow and Jessica Alba are pursuing new careers as lifestyle gurus.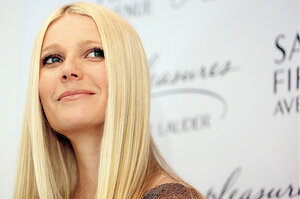 Mario Anzuoni/Reuters
Both Martha Stewart and Oprah Winfrey have watched their media empires dwindle. But in their place has risen a new breed of celebrity homemaker – semiretired actresses enjoying a second career as lifestyle gurus.
Jessica Alba has not appeared in a live-action, widely released movie since 2011. In that time, she's launched a line of eco-friendly baby products and published a new book, "The Honest Life," about her organic lifestyle.
Blake Lively's big role in the teen hit "Gossip Girl" has come to an end and her would-be summer blockbusters – "The Green Lantern" and "Savages" – fizzled at the box office. Now, the actress has grabbed headlines for taking cooking lessons at Le Cordon Bleu in Paris and installing a massive kitchen in her new home.
But the queen bee of this new era has been Gwyneth Paltrow. During a slow period in her career, she kicked off the online news-letter Goop. While critics mock the website for its casual excess ($100 shirts for babies and four-figure handbags), Goop has secured a place among the big style and parenting blogs. In April, Ms. Paltrow released her second health-minded cookbook, "It's All Good."
---